Hi, everyone! Here are the icons that I have made for my
iconfiend100 claim. I must admit that I am still a neophyte in this icon making business... Anyways, enjoy and please take note of the rules. Thanks.
P.S. If you like what you see, please feel free to join/watch
spacefx for updates. Thanks again.
P.P.S. If you like to have any text changed or removed, please tell me and I'll gladly do it for you. :D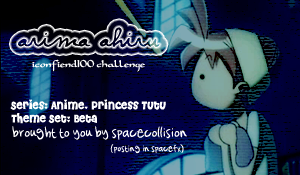 Credits: Here. Screencaps were taken by me.
# of icons completed: 32/100

Rules:
1. No hotlinking.
2. Textless icons are not bases.
3. Please do not claim these icons as yours.
4. Please credit <
spacecollision or
spacefx in keywords/comments if taking any.
5. Enjoy and I'd love to hear your comments. ♥
Feeling::
amused
Listening to:: George Frederic Handel - Fireworks Music